BREST AIRPORT (BES) INFORMATION
Origin
Airline
Flight no.
Scheduled
Est./Actual
Status
No flight arrivals were found at Brest Airport.
Destination
Airline
Flight no.
Scheduled
Est./Actual
Status
No flight departures were found at Brest Airport.
Car Hire at Brest Airport
UNBEATABLE VALUE CAR RENTAL
Free Amendments | Free Cancellations | No Card Fees




Brest Airport - All Information on Brest Bretagne Airport (BES) Brest Airport
Aéroport Brest Bretagne, 29490 Guipavas, France
phone 0033 2 98 32 86 00
phone+33 (0)2 98 32 86 60 (Lost + Found)
emailinfo@brest.aeroport.bzh
emailservice.bagage@brest.aeroport.bzh (Lost+Found)
Facts and History about Brest Airport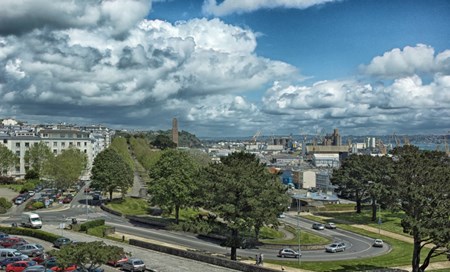 Formerly known as Brest Guipavas Airport because of its location near the municipality of Guipavas, Brest Bretagne Airport is the gateway to France's lovely Brittany region. The airport lies ca 10.2 km northeast of the city of Brest and can be contacted by telephone on +33 2 983 28600, or by email at info@brest.aeroport.bzh.
The international airport began life as two airship hangars in 1917, when the American Navy built them on the Lanrus moors in Guipavas. When WWI ended, the site was abandoned, but by 1931 the need for a future local airport was so important that the Brest Chamber of Commerce began investing in the site. It took until June 1937 to create a small airport, which saw its inauguration in that month as Brest-Guipavas Airport.
After WWII, in 1946, the airport saw its first flights, which were goods transports to England. The first charter flight didn't happen until 1953, when a plane took off from Brest-Guipavas Airport to Jersey. In 1955, the first regular flight left for Ouessant, and in January 1961 the airport finally opened up to commercial airlines with Air Inter offering twice daily return flights.
By 1963 the airport had proved so successful that it handled more than 10,000 passengers – better facilities were needed and the airport was extended in 1966, followed by further expansion in 1986, 1992, 1993 and 2007, when the new airport terminal opened. It has two levels and serves around 1.4 million passengers every year.
The terminal is open every day of the week from 4.45 hours to 23.30 hours. An information desk in the main public area is open from 8.00 hours to 23.00 hours every day.
Arrivals, Departures and Airlines at Brest Airport
Car Rental Services at Brest Airport
Several car rental companies have desks at Brest Airport including; Alamo, Avis, Enterprise, Europcar, Hertz, Rent Scape and Sixt are located at the exit from the baggage reclaim area, opposite Arrivals. There is always an open car rental desk at Brest Bretagne Airport, every day of the week, between 8.00 in the morning and around 23.00 hours at night.
Taxi Services at Brest Airport
The taxi rank is situated in front of the main entrance of the terminal. Allow around 30.00 euros for a taxi ride into central Brest, which takes ca 15 to 20 minutes. The distance between the airport and the city is just over 10 km. Brest is a university city. A taxi ride from Brest Bretagne Airport to a major technology campus for example takes 30 to 40 minutes. Prebooked transfers are around 47.00 euros per person to central Brest locations.
Airport Shuttle Bus at Brest Airport
It takes just ten minutes for the airport shuttle to get to the Porte de Guivapas stop for tram line A. There are between 12 to 24 services a day. Outside of tram operating hours the airport shuttle leaves from the railway station in Brest. The shuttle is available every day of the week, all year round. The whole journey, shuttle and tram into Brest, takes 34 to 36 minutes.
From Mondays to Saturdays tram line A runs from 5.00 in the morning to 01.00 at night. On Sundays the tram operates from 7.30 hours to 0.30 hours. There is a tram about every 6 to 8 minutes.
Line A covers quite a large area of Brest and surroundings, including destinations in Iroise, Phare de l'Europe, L'Hermitage, Kergaradec and Les Portes de Brest-Guipavas, the main commercial areas.
Tickets for the Bibus shuttle can be bought from the driver on the day of travel, or in advance from the Bibus website (bibus.fr). A ticket costs just 1.60 euros and is valid for up to one hour on any Bibus route, including shuttle, tram line and city bus. For timetable and other prices, please visit www.bibus.fr or call Bibus on +33 2 98 80 30 30. Tickets for the shuttle can also be purchased at the railway station from an automatic distributor.
Hotels near Brest Airport
There are a number of hotels to suit all budgets and requirements at or near Brest Airport.
Parking at Brest Airport
See options for parking services at Brest Airport.
Additional Services and Amenities at Brest Airport
At Brest Airport you will find the usual array of bars and restaurants, airport lounges and shops.
WiFi Access
Inside the terminal passengers can enjoy free and unlimited access to WiFi services on their laptop or their mobile phones. Passengers simply need to connect to the "WiFi by CCIBREST" network. The screen that opens up will direct them to the access portal.
Baggage: Lost Property and Baggage Services
Open daily from 10.00 to 18.30 hours, the service desk offers passengers the chance to track down lost or late baggage or report damaged suitcases and bags.
Contact details:
Tel. : +33 (0)2 98 32 86 60
E-mail : service.bagage@brest.aeroport.bzh
Banking Services at Brest Airport
There are several Crédit Agricole automatic cash machines in the terminal, two on the ground level (Niveau 1) and two near the Air France desk on the upper floor, Niveau 2.
Things to do in Brest City
There are a number of activities to suit all ages and interests in the region - see a selection of tourist activities in Brest City, France.
Services at Brest Airport
Useful Information about Brest Airport