Brest Airport Arrivals (BES)
Not all flights may be showing. If not available use search above to find your flight by airline, airport or flight number.
Origin
Airline
Flight no.
Scheduled
Est./Actual
Status
Porto (OPO)
Transavia
TO7851
04:25
Delayed
Hyeres (TLN)
Transavia
TO7365
04:45
Scheduled
Ban Houei (OUI)
Finistair
FTR103
04:50
Scheduled
Bordeaux (BOD)
Chalair Aviation
CE2934
05:50
Scheduled
Lyon (LYS)
Air France
AF1598
06:05
Scheduled
Paris (CDG)
Air France
AF7522 expand_more(4)
06:20
Scheduled
Paris (CDG)
Delta Air Lines
DL8204
06:20
Scheduled
Paris (CDG)
ITA Airways
AZ2628
06:20
Scheduled
Paris (CDG)
KLM
KL2336
06:20
Scheduled
Paris (CDG)
WestJet
WS5001
06:20
Scheduled
Marseille (MRS)
Transavia
TO7361
06:30
Scheduled
Bordeaux (BOD)
Chalair Aviation
CE45
06:55
Scheduled
NIce (NCE)
Volotea
V72887
06:55
Scheduled
Lyon (LYS)
easyJet
U24305
07:25
Scheduled
No flight arrivals were found at Brest Airport.
Flight Arrivals at Brest Airport
Located some 10 km northeast of the city of Brest, Brest Bretagne Airport serves as the gateway to Brittany, one of Europe's most spectacular coastal landscapes. Brest Airport (BES) is an international gateway that links France's Brittany region with Africa and Austria, Bulgaria and Croatia, Italy, Portugal and Spain among other worldwide destinations. The single terminal building handles around 1.4 million passengers every year, who arrive from cities like Agadir, Fes and Marrakesh in Morocco, Varna in Bulgaria, Birmingham, London Southend and Southampton in the UK, Athens in Greece or Amsterdam in the Netherlands.
Airlines like Aegean, AirFrance, EasyJet, Flybe,com, Ryanair, TuiFly, Volotea and Vueling offer low-cost travel from and to Brest Bretagne Airport.
The single terminal building is open from 4.45 hours in the morning to 23.30 hours at night. When there are delays to flights, the terminal stays open longer. An information desk, open from 8.00 to 23.00 hours, provides arrivals with the necessary information on onward travel, tourist attractions in and around Brest, and other places of interest in Brittany.
Brest Airport – Terminal Services
The Arrivals area is located on the ground level, Niveau 1. A Lost Property and Baggage Service desk can be found in the baggage reclaim area. The service is available daily from 10.00 to 18.30 hours, tel +33 (0)2 98 32 86 60, service.bagage@brest.aeroport.bzh.
Free WiFi is available throughout the terminal. Arriving passengers only need to connect to the "Wifi by CCIBREST" network. When the screen for portal access opens, there are a few short questions to be answered, then an access code for the passenger's mobile device will be given.
The public area of the terminal's ground floor level also contains a restaurant, bar and brasserie near the entrances, and shops selling tobacco, gifts, newspapers and books. There are two ATM's for cash located on Niveau 1, a travel agent, public toilets, and a safe, quiet area for children travelling on their own. A boutique selling fashion items and accessories is also open for passenger use. A post box is located in front of the terminal entrance on the airport forecourt.
The public area of the terminal offers passengers two drinks dispensers with hot and cold drinks. The drinks machines can be found at the terminal entrances.
Business Services at Brest Airport
Passengers arriving for seminars, recruitment interviews or business meetings will find the business area with meeting rooms and offices is well-equipped, modern and comfortable. Offices and rooms are available inside the terminal for hourly meetings, full or half-day business events. Prices are available on request via espace.affaires@brest.aeroport.fr. A projector screen is in every meeting room and video-projectors, paper boards and bottles of water, as well as catering are also available. All rooms enjoy free WiFi access.
Leaving Brest Airport
Car rental is available from some major branded names and a few local operators. Car rental desks are located at the exit from the baggage reclaim area. Alamo, Avis, Europcar, Enterprise, Hertz, Rent Scape and Sixt are among the Brest Airport car rental providers.
Within an hour's drive there are many interesting places or picturesque towns and villages one can visit. Morlaix is 36 minutes via the N12, Saint-Renaus just 20 minutes away via the D67 route. And Roscoff Port with ferry access to Cork in Ireland and Plymouth in the UK can be reached within an hour from Brest Airport.
A taxi rank is located just outside the main terminal exits. A taxi ride into central Brest costs around 30.00 Euros and takes between 15 to 20 minutes.
The airport shuttle runs between the airport and the A line tram stop at Porte de Guivapas. Running between 12 to 24 times a day, the shuttle operates every day of the year, from early in the morning to late at night. Outside of tram operating hours, the shuttle runs between the airport and Brest railway station. The shuttle trip to the tram stop takes just 10 minutes, the whole trip into Brest takes 34 to 36 minutes. Tram line A runs every 6 to 8 minutes. The price for a shuttle ticket is 1.60 Euros per person.
The ticket can be purchased from the shuttle bus driver, or at the railway station from an automatic dispenser. The ticket is valid for one hour, and entitles passengers to use any Bibus route, shuttle, tram line or city bus. Tickets can also be bought in advance (bibus.fr).
Was your flight delayed or cancelled?
You may be eligible to receive up to 600 EUR compensation per person in your party..
Claim Now!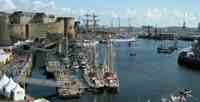 Ferry services to and from the port of Brest Bretange, France with sailing times and schedules...