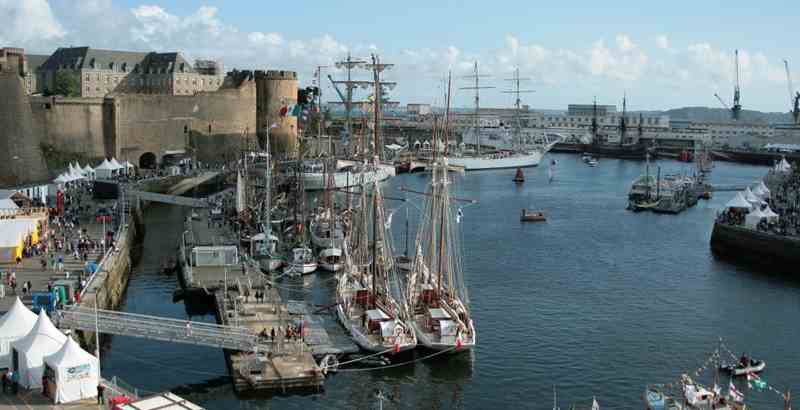 Brest Bretange Ferries
Local ferries usually only operate from April to September. The tourist office is the best place to contact for up-to-date information. The Fininstere region, in which Brest lies, publishes a list of local ferry operators. Some of the ferries are just small fishing boats that take passengers to the small islands and back. There is an April to October connection between Brest and Let Fret on the Crozon Peninsula, which is well worth exploring, and a link from l'Ile Tidy to Loctudy that is in operation from April to September.
From Brest it only takes one hour by car to get to Roscoff harbour, from where travelers can take ferries to both Cork in Ireland and Plymouth in the UK. These routes are operated by Brittany Ferries, a company using luxurious ferries that allow you to travel in style, on foot or with a car.
The Armorique cruise ferry and flagship Pont Aven operate on the Roscoff to Plymouth route. From Plymouth it is easy to get to Wales and the West Country, as both are linked by motorways to the Port of Plymouth. There are up to 3 sailings a day on this route, with individual journeys taking between 6 to 8 hours. The shorter crossings are during the day, the 8-hour crossing takes place overnight.
What can passengers expect on a luxury cruise ferry on the Roscoff to Plymouth Route?
A crossing in two or four berth cabins, and onboard entertainments like cabaret and cinema, video games in a games room, free WiFi access, children's entertainments a cafe and piano bar, sundecks and lounges on which to relax. There is even onboard shopping and Pont-Avon also has a swimming pool. French food is served in both self-service and à la carte restaurants.
Sailing Times Roscoff to Plymouth
Ferries leave Roscoff at 09.15, 15.00 and 16.30 hours, arriving at Plymouth at 13.30, 20.10 and 21.30 hours respectively.
Sailing Times Plymouth to Roscoff
Ferries leave at 20.45 and 22.00 hours, arriving overnight at 00.80 hours the following morning.
Ticket Prices Roscoff to Plymouth
A single person travelling in a car/MPV or 4x4 (max 5m length/1.83m height) would pay between 155.00 euros and 225.00 euros, depending on the time of travel and which ferry is selected. Travelling on the Pont-Avon is slightly more expensive.
Travelling from Roscoff to Cork
Ferries operating this route take also foot passengers, not just passengers with cars or motorhomes. There are at least two sailings every day.
Sailing Times Roscoff to Cork
Ferries leave Roscoff at 19.00 and 20.30 hours, arriving at Cork at 08.00 and 09.30 hours the following morning.
Sailing Times Cork to Roscoff
Ferries leave Cork at 16.00 and 22.00 hours, arriving back at Roscoff at 07.00 and 15.30 hours.
Ticket Prices for Roscoff to Cork Route
Single foot passengers on this route pay 39.00 euros per person, one-way. If you travel with a car/MPV or 4x4 (max. size 5m length/1.83 height), your voyage will cost between 115.00 and 169.00 euros.
The Port of Roscoff lies just 60 km northeast from Brest via the N12 motorway.
Route Operator Contact Details:
https://www.brittany-ferries.co.uk
Please call +44 (0)1752 648637 for advice and assistance on travel times for both routes.
Minimum check-in time required is 45 minutes, 60 minutes, if you travel with pets from the UK. If travelling with pets from France, allow 90 minutes check-in time at Roscoff.
UNBEATABLE VALUE CAR RENTAL

FREE
Amendments,
FREE
Cancellations,
NO
card fees!

airport_shuttle Need Airport Transfers?
Useful Information about Brest Airport