Brest Airport Departures (BES)
Not all flights may be showing. If not available use search above to find your flight by airline, airport or flight number.
Destination
Airline
Flight no.
Scheduled
Est./Actual
Status
Lyon (LYS)
Air France
AF1599
02:30
Scheduled
No flight departures were found at Brest Airport.
Flight Departures at Brest Airport
Brest Airport's modern terminal operates on two levels. Departures are handled on Niveau 2, the first floor of the single terminal building. The terminal is operational seven days a week, open from 4.45 hours in the morning to 23.30 hours at night. When flights are scheduled to leave before 5.00 hours in the morning, or after 23.00 hours at night, the terminal remains open for longer.
Brest Airport departure passengers will find an information desk in the public area, which is open from 8.00 hours to 23.00 hours.
Brittany's main airport is accessible from Quimper, Lorient, Vannes and Nantes via the RN165 route, and from Morlaix, Saint-Brieuc and Rennes via the RN12 route. By car it takes between 50 minutes to one hour from Quimper to get to Brest Bretagne Airport, the same time from Morlaix, Roscoff Port and Concarneau. To reach Brest Airport from Saint-Brieuc or Lorient takes about 1 hour and 25 minutes.
Brest Airport long and short-term Parking
Brest Bretagne Airport offers passengers three parking facilities: P1, P2 and P3. The latter is located ca 8 minutes distance via a pedestrian path. The desks of multiple car hire companies such as Alamo, Avis, Europcar, Enterprise, Hertz, RentScape and Sixt are located opposite the Arrivals area for customers with a car rental reservation who need to return keys and documents.
If you park less than 10 minutes in P1, parking is free. Parking for less than 20 minutes is free in P2, and parking up to one hour in P3 is also free. For frequent flyers it may work out better to buy an annual subscription to the parking lots. In P1 it costs 980 euros to park, in P2 580 euros, and in P3 520 euros to park annually (prices as of 2019).
Parking is also free in P2 for all clients who rent a business or meeting room with catering, or business clients can rent P1 parking spaces for a rate of 10.00 euros a day.
Parking for up to 8 days in P3 costs 32.00 euros, 64.00 euros in P2 and 98.00 euros in P1. Please contact service.parkings@brest.aeroport.bzh or tel +33 (0) 2 98 22 86 37 for a full price list.
For passengers who want to leave their most important items in safe-keeping, such as house keys or car keys, or their motorcycle helmets, they can avail themselves of the key deposit scheme at the parking information desk. It costs 15.00 euros per item.
Getting to Brest Airport with Public Transport
Tram line A leaves the city of Brest every 6 to 8 minutes throughout the day and until late at night. A ticket that allows passengers to travel for up to one hour, costing 1.60 euros per person, is available from the train station's ticket machine and online from www.bibus.fr (tel +33 2 98 80 30 30). From the Porte de Guipavas stop of tram line A passengers can take the airport shuttle, which takes just 10 minutes to arrive at the terminal. The whole journey by tram and shuttle takes ca 36 minutes.
Taxis from Brest city center cost around 30.00 euros, taking between 15 to 20 minutes.
Brest Airport Departure Terminal Services
Brest Airport Departures provides parents and their children with a safe, colourful children's play area, where small travelers can use slides and climbing frames, play with puzzles or toys provided by the airport authority. Public toilets are accessible to passengers with mobility problems.
The retail area in the public part of Brest Airport terminal is open from 5.00 hours in the morning to 22.00 hours at night. The 200 sqm area includes a kid's clothing shop, a newsagents, bookshop, tobacconist, gift shop and a place where local produce is sold. After security passengers can enjoy shopping from 9.30 hours in the morning to 19.00 hours at night from Mondays to Saturdays, and from 10.30 hours to 20.15 hours on Sundays. There are a shop selling local produce, a marine-inspired clothing shop and a newsagent, among other retail outlets.
Check-in desks are located on Level 2 of the terminal. Air France has a sales desk on this floor and there are two ATM's dispensing cash. They are located near the Air France sales desk. Other airlines operating out of Brest Airport include Aegean, easyJet, Flybe.com, Ryanair, Tuifly, Volotea and Vueling.
Brest Bretagne Airport offers passengers routes to Agadir, Fes, Marrakesh in Morocco, Djerba in Tunisia, Innsbruck in Austria, Dubrovnik and Pula in Croatia, Oblia, Palermo and Rome Fiumicino in Italy, Faro, Funchal, Lisbon and Porto in Portugal and Barcelona, Lanzarote, Malaga and Palma de Mallorca in Spain, among many other European destinations. There are 15 domestic flight routes that passengers have access to from Brest's international airport, including flights to Ajaccio, Nice and Paris, Rennes and Toulouse, Lille, Lyon and Marseille.
Every year, the airport handles around 1.4 million passengers, connecting France's lovely Brittany region with the rest of the world.
Was your flight delayed or cancelled?
You may be eligible to receive up to 600 EUR compensation per person in your party..
Claim Now!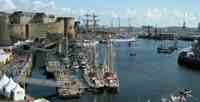 Ferry services to and from the port of Brest Bretange, France with sailing times and schedules...