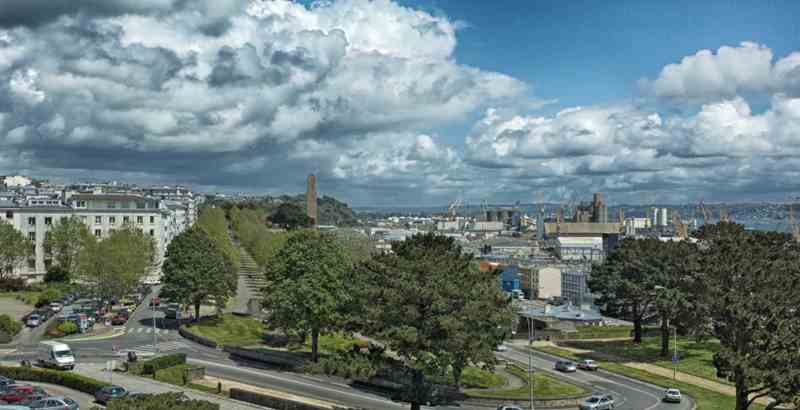 Brest Tourist Attractions
If you are staying in Brest, you can enjoy a Brest City Tour by tram or bus or even cable-car for very little money. There are numerous tourist attractions in what is arguably France's most fascinating naval port. From the medieval castle and maritime museum in the harbour to the wonderful family attraction of Océanopolis, one of Europe's largest aquariums, Brest never fails to surprise and delight.
Brest City Tours
A single Bibus ticket allows visitors to travel around on tram or bus. But it's also possible to see Brest from the cable-car that runs from the Rue de Siam to the Capuchins. An official Brest City Tour is available between 10th April to 3rd November every year, taking in nine sites with a double-decker bus. The guided audio tour is currently available in 5 languages. Sites include the National Botanical Conservatory and Moulin Blanc Beach. The tour starts in front of Brest Tourist Office, where tickets are available. Tickets can also be purchased on the bus. An adult ticket costs 14.00 euros, children aged 4 to 15 pay 8.00 euros. Under 4's go free. Brest Tourist Office is located at
8 Avenue Georges Clemenceau-Place de la Liberté, 29200 Brest, tel +33 2 98 44 24 96, and is open from 9.30 to 18.00 hours on Mondays, Wednesdays, Thursdays, Fridays and Saturdays, and from 10.00 to 18.00 hours on Tuesdays.
Crozon Peninsula Tours
Between April and September boats operate between Brest and Le Fret in the mornings and afternoons, allowing visitors to see the Crozen Peninsula from the sea. It's also possible to take boats from Brest harbour to places like the Ile de Sein, Molène and Ouessant.
Please visit Le Brestoâ boat company for the Brest to Le Fret services. Their office is open from 9.00 to 17.00 hours from Mondays to Fridays, tel +33 02 98 90 88 89.
Océanopolis
It is the only ocean discovery center of its kind in Europe and a fantastic place to take children. Located at Port de Plaisance du Moulin Blanc, 29200 Brest, +33 2 98 34 40 40, the center is divided into several zones, including the wonderful Otter Trail, Tropical and Polar Pavilions and one pavilion devoted entirely to creatures indigenous to Brittany itself. There are some 77 aquariums holding more than 4 million liters of sea water in which some 1,000 animal species enjoy a happy life! In total, Océanopolis is home to ca 10,000 animals, and covers an area of 9,000 square meters. It's a place of superlatives in terms of animal habitats. The Polar Pavilion for example is home to the largest penguin habitat in Europe and a seal colony that lives on a real piece of pack ice.
Brest Naval Museum & Château de Brest
Château de Brest is the oldest monument in the city. Located in Rue du château at Boulevard de la Marine, tram station Chateau, bus stop Tarrêt Musée de la Marine, the medieval fortress was long one of the world's strongest fortifications. Today it serves as the home of Brest Maritime and Naval Museum. Filled with items from Brittany's naval and shipbuilding past, the castle and museum are open every day, except Wednesdays, from 10.00 to 18.30 hours (tel +33 2 98 22 12 39). Audio guides are available for just 2.00 Euro per person. The castle foundations date back to the 3rd century, but what is on display today is mostly from the 14th to the 17th century, when the castle was finally completed.
Iroise Marine Natural Park
Created in 2007, this huge marine habitat off the coast of Finistère lies between the islands Ushant, Molène and Sein, and the coasts of Crozon and Douarnenez. Historic lighthouses protected this coastline for centuries and many of them are still in existence today. The biodiversity of the area includes marine mammals, many bird species and rare plants, both on land and below the surface of the sea. The UNESCO biosphere reserve can be visited from several different points along the Brittany coast, including Brest and Le Conquet.
For access to the park from Brest, please contact Parc naturel marin de l'estuaire de la Gironde et de la mer des Pertuis, 16, quai de la douane - CS 42 932, 29 229 Brest Cedex 2, tel +33 2 98 33 87 67.
Rennes Tour
The city of Rennes is easy reached in an hour's drive from Brest. Brittany's capital city is famous for its medieval half-timbered houses and beautiful Cathedral, its Musée des Beaux-arts collection that includes works by Botticelli, Rubens and Picasso, and its wonderful Science Park which features a planetarium. Saint-Georges swimming pool, a beautiful monument to the Art Deco era, has featured in many films. Guided city tours start from just 7.20 euros per person, some concentrating just on the historic city center, others with a focus on street art.
For information about more tours in and around Brest, please visit the official tourist site of Brittany.
UNBEATABLE VALUE CAR RENTAL

FREE
Amendments,
FREE
Cancellations,
NO
card fees!

airport_shuttle Need Airport Transfers?
Useful Information about Brest Airport